So you're planning to visit Larnaca!? First of all, yay, we're so excited for you to come and explore the rich history, jaw-dropping beaches, and vibrant city center of Larnaca. In this article, you will find everything you need to plan a trip so legit you'll have people convinced you're a local!
~These insider tips are brought to you by the team at LIV Collection, the elevated place to stay in Larnaca!
Discovering the Hidden Gems of the City Center
Explore the street art of Finikoudes Beach – take a stroll along the promenade and surrounding streets in the evening to see beautifully designed street art, bringing a vibrant energy to the area.
Explore the wonders of Emira Pottery – this gem is much more than a store, but more on that later…
Invest in a local guide – if you want to experience the things only a logical would know, we suggest hiring an independent local guide. They will chat with you and, from there, map out the ultimate Larnaca day for you and drive you around!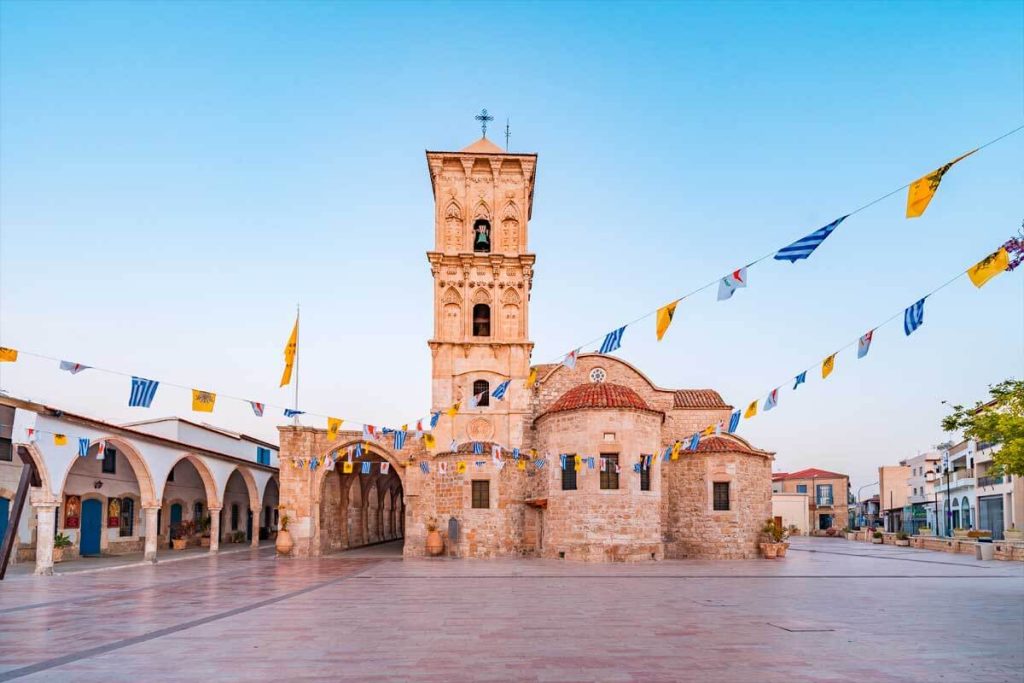 Exploring the Streets of Larnaca – the must-see places
Explore the Church of St. Lazarus – one of the most incredible examples of Byzantine architecture. This church is truly stunning inside and out and is nearby other major attractions, such as Finikoudes Beach.
Stroll the promenade and catch some rays at Finikoudes Beach – this area is a hub for a good reason. It has everything nearby; top attractions, beach bars, restaurants, shops, and upscale accommodation just minutes away at LIV- Urban Larnaca!
Cycle the Larnaca Salt Lake and spot the flamingos – almost impossible to miss when they're in season from November-May.
Visit the Larnaca Medieval Fort – also referred to as the 'Larnaca Castle' and really just around the corner from the Church of St. Lazarus.
Stay at a stunning beachside villa at LIV Mackenzie – Live it up at Mackenzie Beach, one of the most (if not the most) popping places in the city. Locals and tourists come here to do some beachside bar-hopping, soak up the sun, shop, explore the nightlife, and more.
Where to find the best local food in Larnaca
To Kazani Traditional Tavern
To Kazani Traditional Tavern is one of the most raved-about places to dine in the city! If you're looking for a genuinely fantastic and authentic meal and to experience the lively nightlife of Larnaca City – look no further! The tavern is beautifully designed with a traditional old-town vibe, featuring indoor and outdoor seating options. Their menu features a range of Mediterranean, vegetarian, vegan, and gluten-free Cypriot mezes and dishes to satisfy your every craving. You won't be leaving here hungry. They also have a live band playing many evenings for total ambiance.
To Kafe Tis Chrysanthi's
During your visit to Larnaca, you must make time for a visit to To Kafe Tis Chrysanthi's in the Larnaca city center. One of the fabulous things about this establishment is; no matter what time of the day you visit, you're bound to enjoy a delicious meal or beverage. They are open for brunch, lunch, dinner, and more. And are well known for their inventive cocktails and mouthwatering desserts and sweets, which often take a classic Western dish/beverage and put a quirky Cypriot spin on it.
Maqam Al Sultan
This lively Lebanese restaurant offers ambiance galore! Here you can experience the true taste of Lebanon, featuring vegan, vegetarian, halal, gluten-free, and classic dishes. In addition, they offer a dynamic brunch, lunch, dinner, and late-night scene. But, Friday and Saturday nights are when it really pops off, with belly dance performances right in the middle of the restaurant.
Pro tip: When you stay with LIV, you get to experience a new taste each day; we source our meals from the best of the surrounding restaurants to cater your stay with us. Experience the best of the best, all from the comfort of your stunning hotel.
Exploring the Unique Shopping Experiences in Larnaca
Every Day Is A Gift
If you're looking for that perfect souvenir that encompasses the emotional experience you have had in Larnaca, or a meaningful gift to bring home to a special loved one, Every Day is a Gift is a place to go. Every Day is a Gift is a family-run store full of handmade Greek and Cyprus-inspired jewelry, pottery, and more. Conveniently located just 20 meters from Saint Lazaros Church, it's an unmissable stop while exploring Finikoudes Beach and the closeby Larnaca City Center. Fairly priced, with pieces from 5-75 Euros, you simply can't miss it!
Metropolis Mall
Now, if you're looking for things to do in Larnaca, and you are one of those people that feel most 'at home' perusing the shops with your credit card in hand, you have to wander to the Larnaca City Center and spend a few hours strolling through the Metropolis Mall. Here you can find stores on both ends of the spectrum, from affordable and relaxed to top-tier luxury stores and everything in between. The Metropolis Mall is ideally situated right amidst the Larnaca city center, with tons of things to do in Larnaca surrounding it. From bars. To restaurants, grocery stores, movie theatres, attractions, sites, and so much more! And even if you're not staying right in the city center and are planning on staying closer to the coast in Finikoudes Beach, it's still a pretty straight shot that is easily accessible by bus, or a brief 45-minute-ish walk, giving you a chance to peruse the old town, traditional markets, and atmosphere of the city as you make your way there.
Emira Pottery
Emira Pottery is a cozy little establishment that encompasses so much of what Larnaca is about. This laid-back and tranquil place is more than a mere pottery store to buy a dazzling souvenirs from; they actually offer pottery classes too! So you can experience this ancient craft hands-on and bring back a souvenir and a memorable experience.
How to get around Larnaca city center like an expert
Larnaca has a lot to offer, both amidst the city center, along the coastline at Finikoudes and Mackenzie Beach, and in the depths of the Troodos mountains. Thankfully, getting around isn't too complex, and there are plenty of options to choose from. Such as…
The bus
There are three major buses that you're likely to use during your time in Larnaca. First is the city bus, which runs from the port to the city center and to the seafront. There are also plenty of tourist buses available which operate on a hop-on-hop-off style, which honestly is the perfect way to explore the city for the first time and hit all the major stops while still exploring at your own leisure. Finally, public buses also run from Makariou Avenue and Seafront to different beaches and tourist locations. This is another excellent way to get around the city and jump from traditional markets to Mackenzie Beach and your next tourist spot!
Taxis
In Larnaca city center, taxis can usually be flagged down on all main streets. They're efficient and get you where you need to go, but they cost a little more than other options. However, they are our suggested go-to for airport transfers to and from accommodation. Alternatively, we recommend arranging a shuttle (which we can help you with!) Another way to move comfortably within the city is through the Bolt application. You can order a taxi or any driver who will pick you up for a fair fee and within a few minutes. This way you can move from place to place easily and quickly.
By car or vehicle
If you want to explore 'off the beaten path,' getting a car is probably the most independent way to get around. But, if you're not too keen on driving, there are plenty of organized tours that can take you on whole-day adventures to the far corners of the island.
On foot
Although there is a bunch to see and do in Larnaca, it's not actually a big city. Therefore, a lot of the island's most-visited spots are very walkable and, in fact, pleasant to stroll through.
Impress your friends with fun facts about this vibrant city
Larnaca is one of the oldest cities in Cyprus and has been under the rule of the Phoenicians, the Greeks, the Romans, the Ottomans, and the British. As it is also conveniently located, it has become quite a thriving port city for traders to frequent. Because of all of this, it has developed a rich, unique culture, a melting pot of cultures and traditions that tells a story of days gone by. It was also once known as Kiton.
Throughout all of these influences and competing cultures, the Byzantine era has left the largest visible impact on Larnaca and can be seen throughout the city. Most notably, people come to marvel at the stunning Byzantine architecture of the Church of St. Lazarus. There is even a small Byzantine museum on the grounds of the church, which is worth a visit.
So, if you're planning a trip here and are on the hunt for the best hotels in Larnaca, we've got you covered! We have upscale locations scattered throughout the most popular spots in the city, and we can't wait to host you, your colleagues, your friends, and your family!