Your Gateway to Unparalleled Comfort and Convenience in Cyprus
Are you dreaming of a long-term escape to the breathtaking shores of Larnaca? Look no further than LIV Collection, the ultimate destination for those seeking the perfect rental experience in this vibrant coastal city. With an array of carefully curated apartments and a prime location near the iconic Finikoudes and MacKenzie beaches, LIV Collection offers you the opportunity to immerse yourself in the enchanting beauty of Larnaca while enjoying a comfortable and convenient lifestyle.
Explore the Advantages of Long-Term Rentals in Larnaca
Long-term rentals in Larnaca have become increasingly popular, and for good reason. By choosing a long-term rental with LIV Collection, you can indulge in the freedom of a spacious, fully furnished apartment without the commitment of purchasing property. Experience the joy of having a home away from home, where you can settle in and create a sense of belonging in the vibrant community of Larnaca. Whether you are a digital nomad, an expat looking to relocate, or simply seeking a change of scenery, Larnaca's vibrant culture, rich history, and idyllic Mediterranean climate make it the perfect place to call home.
Gain Access to a Wealth of Amenities with LIV Collection
At LIV Collection, we understand that your comfort and convenience are paramount. We provide you with a range of amenities that will make your stay truly exceptional. Immerse yourself in our stylishly designed apartments, featuring contemporary decor and thoughtfully selected furnishings. Each apartment is equipped with a fully functional kitchen, allowing you to unleash your culinary creativity. Stay connected with high-speed internet access and enjoy the comfort of air conditioning to escape the Mediterranean heat. Step out onto your spacious balcony and breathe in the fresh sea air as you soak in the panoramic views of Larnaca. Our goal is to ensure that every moment spent in your LIV apartment is one of comfort and relaxation.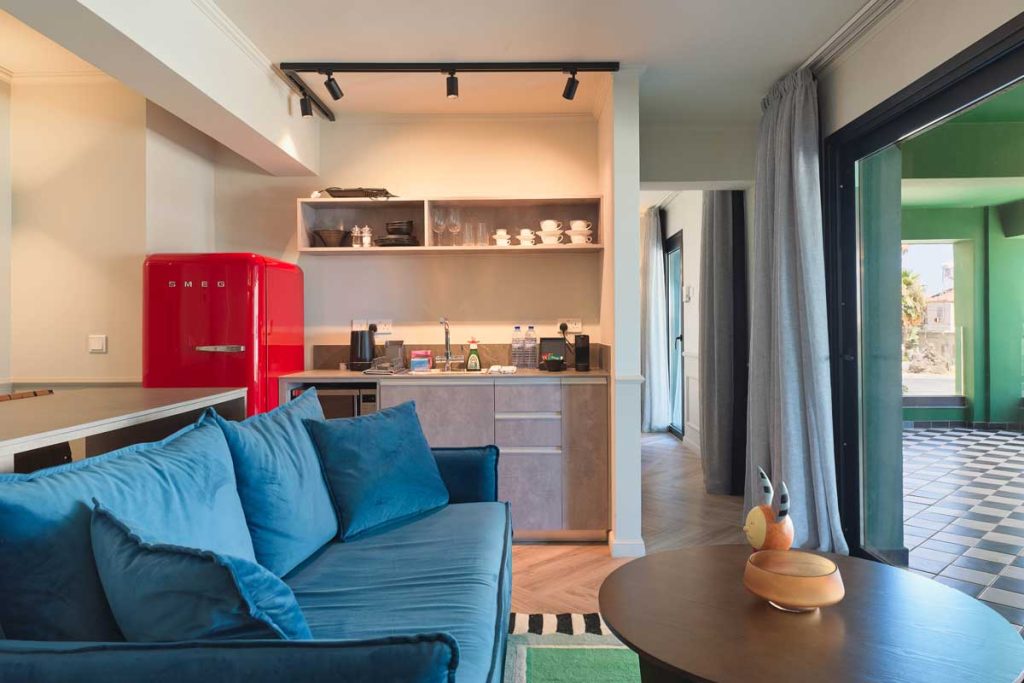 Enjoy Being Part of a Community with Shared Social Spaces
Living in a LIV Collection apartment means being part of a vibrant and welcoming community. Step outside your door and discover shared social spaces where you can connect with fellow residents, creating lasting friendships and unforgettable memories. Engage in conversations over a cup of coffee in our cozy communal areas or host a gathering in our thoughtfully designed lounges. LIV Collection fosters an inclusive environment that enhances your living experience and allows you to forge connections with like-minded individuals. Share stories, experiences, and laughter with your neighbors as you embark on this exciting chapter of your life.
Find the Perfect Rental to Suit Your Needs at LIV Collection
Whether staying on your own or with others, LIV Collection ensures that you will find the perfect rental to suit your individual needs. Our range of accommodations caters to varying preferences, whether you desire a studio for a solo adventure, a spacious one-bedroom apartment for a romantic getaway, or a larger unit for a family retreat. Each apartment is meticulously designed to provide both comfort and functionality, allowing you to tailor your living space to your unique lifestyle. Our commitment to providing exceptional service means that our friendly staff is always on hand to assist you in finding the ideal living space that caters to your specific requirements.
Take Advantage of the Picturesque Mediterranean Views
One of the highlights of LIV Collection is the breathtaking view of the Mediterranean Sea that greets you every morning. Imagine waking up to the gentle sound of waves and savoring your breakfast while overlooking the azure horizon. The mesmerizing coastal panorama is the perfect backdrop for a tranquil lifestyle and provides an endless source of inspiration and relaxation. Whether you choose a beachfront apartment or one with a view, the stunning vistas will truly elevate your living experience. Witness the ever-changing colors of the sea, bask in the warmth of the sun, and let the beauty of nature envelop you.
Enjoy Easy Access to Shopping and Dining Experiences
Larnaca offers a wide range of shopping and dining experiences, and as a resident of LIV Collection, you will have easy access to these exciting destinations. Stroll along the palm-lined promenade, explore local boutiques, and indulge in a myriad of culinary delights. Larnaca is renowned for its fresh seafood, traditional Cypriot cuisine, and vibrant nightlife. From quaint cafes serving aromatic coffee to gourmet restaurants offering tantalizing flavors, the city's diverse dining scene is sure to satisfy even the most discerning palate. And when it comes to shopping, you'll find everything from local crafts and souvenirs to international brands. Discover hidden gems as you explore the bustling streets and vibrant markets of Larnaca.
In conclusion, LIV Collection is the epitome of comfort, convenience, and community for those seeking long-term, as well as short-term, rentals in Larnaca. Immerse yourself in the rich tapestry of Cypriot culture, soak up the sun on the stunning beaches, and create memories that will last a lifetime. Experience the best of what Larnaca has to offer with LIV Collection as your home away from home.
Remember, Larnaca is waiting for you—make it your home with LIV Collection.