The Beauty of Larnaca and Why it's a Popular Tourist Destination
Larnaca, Cyprus, is a fabulous spot to visit and is always hosting tourists year-round. So whether you want to marvel at Byzantine architecture hundreds of years old, eat Greek and Turkish cuisine to your heart's content, or sip fruity cocktails on one of Larnacas' amazing beaches, we know all the top Larnaca hotels and know just where to stay in Larnaca!
Because of Cyprus' unique location and rich history, it is an incredible blend of both Turkish and Greek traditions, as well as its own uniquely curated atmosphere. Cyprus is a Gem of the Mediterranean, and Larnaca is a gem of Cyprus. Cyprus receives millions of tourists every single year and is only growing in popularity, tourist numbers, and foreign dollars spent. It's easy to see why, with its azul waters, a mouthwatering line-up of eateries, and striking natural landscape.
If you're planning a trip to Larnaca, Cyprus, and are wondering what area and accommodation to stay in, along with game-changing hotel booking tips, we've got you!
Discover the Top areas to stay in Larnaca
If you've decided to visit the stunning shores of Larnaca, yay! You won't be disappointed. But you're likely wondering which area within the city to stay in, right? Below, we're going to give you a breakdown of Larnaca's three most popular areas to stay in; the city center, Mackenzie Beach, and Finikoudes Beach. Each region has its own fantastic features, both within the LIV Collections accommodation and in the surrounding area. This information will help you get a clearer picture of the atmosphere of each location and which place you will like the best.
Enjoy the awesome views from the comfort and luxury of an apartment
This area is north/east of the City Center and, in many ways, is the tourist neighborhood. It is within a short distance of the ever-busy promenade and Finikoudes Beach. This is probably the most convenient spot if you're one of those tourists that like to hit the major tourist attractions and sights, as many of them are located in, or nearby, this area. If you stay here, you'll likely be able to walk to all of the city's main attractions, with plenty of shops and restaurants available along the way. But, if walking isn't your bag, you can use the main bus system or the hop-on-hop-off bus.
Finikoudes Beach is probably Larnaca's second most popular beach, with plenty of beach entertainment, sun beds, toilets, and more. It's great for swimming, although some people opt to spend their beach days at Mackenzie Beach instead, as the dark gray sands of Finikoudes Beach deter them.
You would struggle to find a better location than LIV Urban Larnaca! 650m away from Finikoudes Beach, Liv Urban Larnaca apartments have it all; a fully equipped kitchen, luxury amenities, a private balcony, and more. Just steps from major attractions like the Church of St. Lazarus and the Larnaca Medieval Fort!
LIV Urban Larnaca is perfect for travelers, young families, couples, and professionals.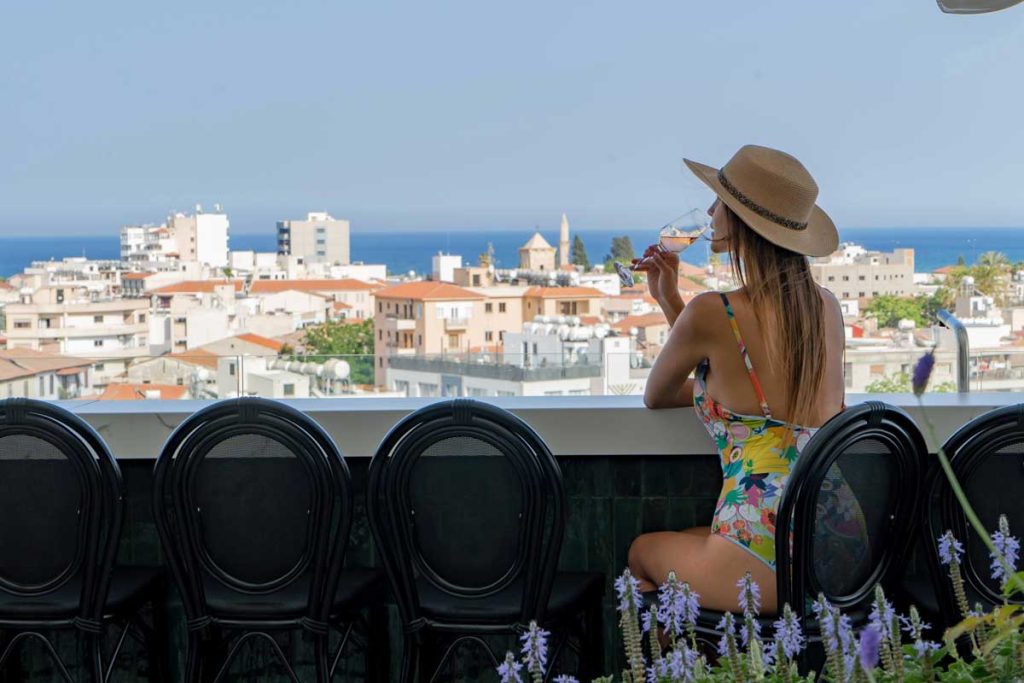 Stay near the beach at one of the beautiful beachside villas
Mackenzie beach is a totally bomb place to stay – this is where many of the hottest restaurants, beach clubs, bars, and events are. The Beach runs down the entire east side of the area and is a major attraction, where all of the action stems from. This is the hottest beach in Larnaca (and we're not talking about the temperature here…). Those who like having fun, being out, and immersing themselves in their surroundings will love staying in Mackenzie Beach. Not only is this one of the most happening places to stay, but it's also convenient; it's only an 8-minute drive from the airport!
Calling all beach bunnies- you'll love staying at the LIV Mackenzie Beach, one of the newest and hottest places to stay in this pumping neighborhood, right on the Mackenzie strip just steps away from the beach, bars, eateries, and more!
LIV Mackenzie is perfect for travelers, young families, couples, and professionals.
Find the best budget accommodation options that won't break your bank
The goal is to find accommodation that suits your lifestyle and doesn't make you go beyond your budget, right? We get it – you're on holiday and want to treat yourself (deservedly so!), but you don't want to regret that choice when you get back home. Luckily, there is an abundance of budget-friendly accommodation here that doesn't break the bank and doesn't require you to compromise on the luxury and amenities of your stay in Larnaca.
Striking a balance between budget and luxury features can be a delicate balance. At LIV, we don't want our guests to have to compromise. This is why in addition to budgeting costs, we have designed all of our hotels in Larnaca with the following features in mind.
The view
Is a picturesque beachside villa your kind of thing? Or a stunning city skyline with distant water? The good news; Larnaca has the best of both worlds, city, and nature – so you can choose your preferred style.
Location, location, location
Location is probably one of the most influential factors you should consider when seeking hotels in Larnaca. No one wants to be trekking back and forth across the city, going here, there, everywhere, without the possibility of conveniently popping back to your hotel. Sometimes, you want to drop off shopping before going to dinner, you may want to change, or you may need a wee break before continuing with your day. Make sure you do your research and select accommodation that's nearby the things you see yourself doing for the majority of your stay.
Amenities
Now, this factor is completely varying. Some people don't care for the extra comforts – for others, it's a non-negotiable. But, particularly if you plan on doing some work during your stay, you'll want a place that houses the finer business amenities (beyond spotty wifi), where you can work comfortably and efficiently.
Atmosphere
The atmosphere of your accommodation is often highly underrated. But it is what sets apart a "fine" stay with a "phenomenal" stay. The level of service, the thoughtful design, the luxury amenities, the tone of the neighborhood, and the people within it. It all builds to create an overall atmosphere and feeling, which you will think back to every time you are reminded of this trip.
Our BEST hotel booking tip:
Who doesn't love learning new hotel booking tips, right? Some people find great benefits in splitting their accommodation. For example, they stay half of their trip in one seaside boutique hotel in Larnaca, soak up the sun, dine at the local restaurants, shop in the local shops, etc. Then they pack up and move to a different area of the city to experience the buzz of the city center, see the tourist attractions, and immerse themselves in the culture of the neighborhood.
An oasis of comfort and peace in the heart of the city
This area is riddled with some of the best hotels in Larnaca. The city center is dense compared to the outer regions of Larnaca and offers a classic city vibe with a more laid-back Mediterranean port city atmosphere. Stroll through the scene of boutique hotels in Larnaca, wander through the bustling shopping scene, thriving restaurants, short term rent in Larnaca, in-and-out coffee shops, and luxury hotels in Larnaca. If you like to shop beyond the typical tourist souvenirs, you will love staying in the city center. And don't worry; there will be plenty of opportunities to get classic souvenirs if that's what your heart is after.
If you are a city-lover, you'll love staying at LIV The City. An elevated experience, an oasis of security, comfort, and ease in the thriving city.
The City Suites are perfect for travelers, young families, couples, and professionals.
 When it comes to the best hotels in Larnaca, LIV Collections dominates the scene!