It's no secret that Cyprus is an excellent summer holiday destination, with millions of sun-seekers flocking the island from April to October. But did you know that Cyprus is just as fabulous in the winter?
While strictly-summer destinations like Agia Napa might be going into hibernation, cities like Larnaca, third-largest in Cyprus, are still a hive of activity, and you don't have to vie for space on the beach or make your way through throngs of tourists crowding the streets. Not to mention the fact that winter vacays are much more affordable, and you can still enjoy the sunny climes of Cyprus, with its 300 sun-soaked days a year. Still not convinced? Here are 5 top reasons to book your winter break in Larnaca.
Sea and sun
If miles of pristine sand and the crystal-clear Mediterranean are what you're looking for, we've got you covered, even in winter. There are some fine beaches in and around Larnaca, from the 1-mile strip of Mackenzie Beach, one of the island's hotspots, to Foinikoudes, the city's famous promenade, with its palm-lined esplanade combining beach life with cafes and restaurants. And if you're looking to get away from city center, look no further than Faros Beach, close to the iconic name-sake lighthouse, just south of Cape Kiti.
Surf and turf activities
Dive much? Then you probably know that diving around wrecks is especially wonderous in winter. Larnaca is a top diving destination, and not just because of the winning combination of warm seawaters (from 16-27 degrees Celsius, or 60-80 Fahrenheit almost all-year-round) and fantastic visibility allowing for one of the longest diving seasons in the Mediterranean. But also, thanks to its world-famous wrecks. Larnaca boasts quite a few of those, but many divers come here for the Zenobia, considered the best wreck dive in the Mediterranean, and arguably one of the best in the world.
If you're not into diving, why not discover the Larnaca region on two wheels? Biking around the area is certainly much more pleasurable in winter, when the weather is mild. There's a range of thematic routes in and around the city, combining sports, nature and a bit of history or tradition. You can choose from a Neolithic Route, a Wine and Gastronomy Route, a Venetian Watchtowers Route, a Wheatfields and Bread-making Route, and a Larnaca Bird-watching Route (exclusively a winter-time activity).
Flamingoes and Insta moments
While we're on the subject of bird-watching, you might want to know that flocks of thousands of greater flamingoes come to winter (from November till March) around the Larnaca Salt Lake, where you can watch these beautiful birds form the Salt Lake Nature Trail, stretching over 4 km (2.5 miles). Aside from the migratory birds and plant life of the area, you can also take beautiful pictures of Hala Sultan Tekke. Holding the tomb of Umm Haram, aunt of Mohammed, the mosque is prettiest in winter, when its domes and minaret are reflected in the Salt Lake.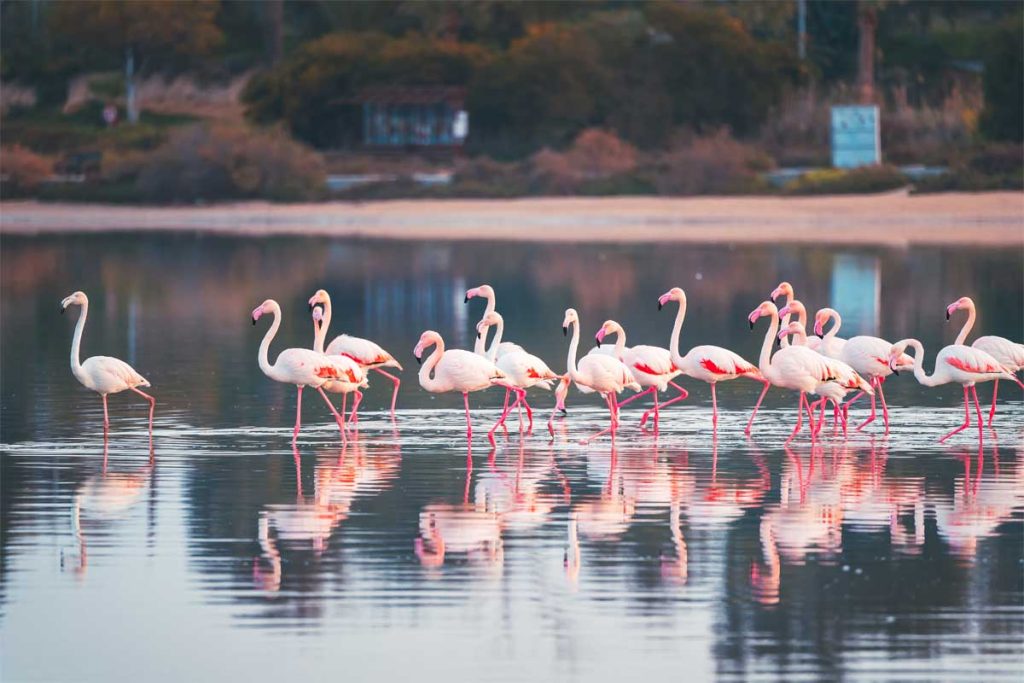 History and culture
We haven't even mentioned yet some of the city highlights, but Larnaca itself is an ancient city with a fascinating history you can explore at leisure come winter time. Apart from the mosque mentioned above, a testament to the Ottoman occupation of Cyprus, make sure to visit the Church of Saint Lazarus, the Kamares Aqueduct and the Fort of Larnaca, with its views of the bay.
The city also boasts many museums, but if you only have time (or patience) for one museum, make it the Pierides Museum – Bank of Cyprus Cultural Foundation. It occupies a lovely old house, and its eclectic collection spans the ancient history of the island from prehistoric times through the Roman and Byzantine empires to the Middle Ages. Don't miss out on the Howling Man 5,000-year-old terracotta figure, the Attic ceramics, the old embroidery, lace and silver jewelry, as well as the largest collection of antiquarian maps in Cyprus.
Village life
Once you've had enough with city life, you can visit some of the small and quaint Cypriot villages around Larnaca, where you can get acquainted with the local traditions. Eleven km (7 mi) southwest of Larnaca, Kiti is a large village, with one of the island's finest examples of Byzantine art, alongside the best beach for kitesurfing. Angeloktisti Church, featured on the tentative UNSECO World Heritage Site List, boasts a rare 6th-century mosaic of the Virgin and Child between two archangels.
At the foot of the Troodos Mountains, 43 km (26 mi) from Larnaca, is the mountain village of Lefkara, world-famous for its traditional handicrafts of lace embroidery and filigree silver. Lefkaritika lace pieces have been made here since Venetian times, and are on the UNESCO Intangible World Heritage List.
One last tip: While you're so close to the Trodos Mountain, why not go skiing or snowboarding? Come January, the snow is deep enough for some action on the slopes, and if you're visiting just outside the short ski season, you can always go on a mountain hike and visit some of the Trodos Mountains waterfalls.
LIV it up!
If you like the idea of a home a way from home, book your stay with LIV.
Our beautifully appointed apartments are more than just a place to put your head. They offer a unique way to feel the city, to LIV it like a local.
At LIV, we offer a holistic experience, always making sure to connect you with the best of what city has to offer, to help you be part of the city's pulse and culture, its cuisine and nightlife.
That's why we will point you to the best parties and local hangouts, and make sure you know about the latest exhibition, or the best restaurant in town.
Because our urban apartment hotel is more than just a hotel. With LIV you won't just tour the city, you will LIV the city.