Introducing LIV Collection – the perfect solution for business travelers who no longer have to stay in cramped hotel rooms.
With our spacious and modern hotel apartments, we offer a refreshing alternative that combines the comforts of home with the convenience of a hotel. Say goodbye to traditional accommodations and step into comfort and flexibility with LIV Collection.
Spacious and modern accommodations with all the amenities of a home
Business travel requires comfort and convenience. LIV Collection stands out from traditional hotels by providing spacious and modern hotel apartments designed to meet business travelers' unique needs. Our apartments offer plenty of space for work and rest, allowing you to spread out and make yourself at home. Say goodbye to small hotel rooms and experience the freedom of a fully furnished apartment with separate living, sleeping, and working areas.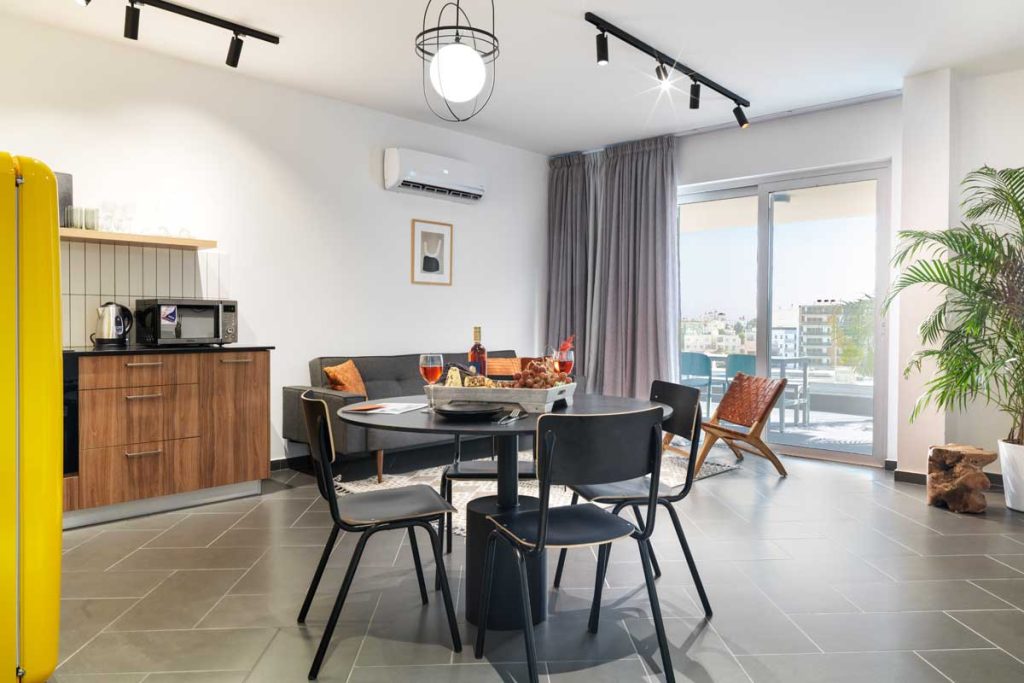 The benefits of staying at an apartment-style hotel when you travel
Staying in apartment-style accommodation while traveling for business offers many benefits. At LIV Collection, we understand the importance of providing a comfortable and productive environment for our guests. Here are some reasons why hotel apartments are the perfect choice for business travelers:
A) More room for work and rest: Our spacious apartments provide a dedicated workspace, allowing you to focus on your tasks without distractions. After a long day of meetings, you can retreat to a separate bedroom for a peaceful night's sleep.
B) Full kitchen facilities: Say goodbye to expensive room service or dining out for every meal. Our hotel apartments come with a fully equipped kitchen, giving you the flexibility to prepare your own meals and save on dining expenses. Enjoy the convenience of having a refrigerator, stove, microwave, and all the necessary equipment at your disposal.
C) Higher privacy: Unlike traditional hotels, hotel apartments offer higher privacy levels. Enjoy the freedom of your own space without worrying about noisy neighbors or interruptions. Whether you need to prepare for a major presentation or relax after a busy day, our apartments provide a peaceful and private atmosphere.
D) Homely amenities: At LIV Collection, we strive to make you feel at home during your stay. Our hotel apartments are equipped with amenities that enhance your convenience, such as cozy seating areas, flat-screen TVs, and high-quality bedding. We want you to have a restful and rejuvenating experience, ensuring you are ready to tackle your business commitments with renewed energy.
Why pay more when LIV Collection can save you money?
One of the major advantages of choosing LIV Collection's hotel apartments is the cost savings compared to traditional hotels or Airbnb's. We understand the financial considerations of business travel, and we aim to provide exceptional value for your investment. Our hotel apartments offer more square footage at a fraction of the cost of a traditional hotel room. This allows you to enjoy spacious accommodations without having to spend a lot of money. Additionally, preparing your own meals can significantly reduce dining expenses, making your trip more affordable.
Various suite types and budget-friendly options are available
LIV Collection understands travelers have unique preferences and budget considerations. That's why we offer a range of suites to meet different needs. Whether you're a solo business traveler or part of a larger group, we have appropriate accommodations to suit your requirements. Our boutique hotel apartments come in various sizes and configurations, ensuring you find the ideal space that fits your budget.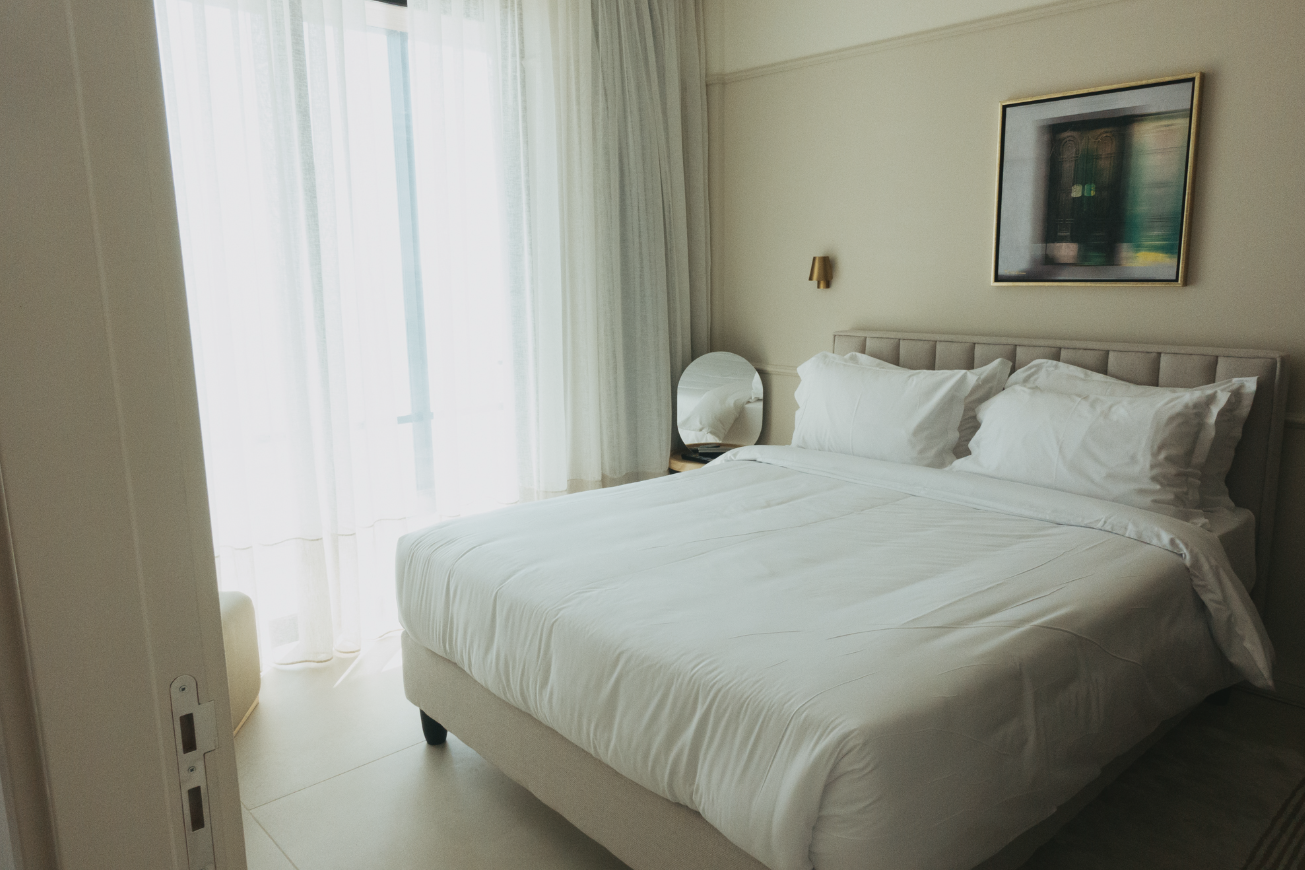 Make the most of your stay in a LIV Collection apartment
To ensure you have an exceptional experience during your stay at a LIV Collection apartment, we've compiled some helpful tips and tricks:
A) Take advantage of our on-site conference centers: If you're in town for a business event or conference, our conference centers provide convenient spaces for meetings, presentations, and networking opportunities. With top-of-the-line facilities and professional services, you can host successful business gatherings without finding external venues.
B) Explore local attractions: While your primary focus might be on business engagements, it's essential to make the most of your downtime. Larnaca has so much to offer beyond its thriving business environment. Take some time to discover the rich history, vibrant culture, and picturesque beaches that make this city special. Our knowledgeable staff can provide recommendations on the finest things to do in Larnaca, ensuring you have a well-rounded experience.
C) Connect with the local community: Immerse yourself in the country's culture by connecting with the vibrant community in Larnaca. Engage in conversations with locals, explore neighborhood markets, and dine at authentic local restaurants to truly experience the city's charm and flavors. By interacting with the local community, you can gain valuable insights, build meaningful connections, and create lasting memories.
D) Make use of the amenities: Take full advantage of our amenities to enhance your stay. Whether it's a refreshing swim in the pool after a long day or a workout session in the fitness center to stay active and energized, our facilities are designed to provide you with moments of relaxation and rejuvenation. Unwind in the rooftop lounge, enjoy a relaxing spa treatment, or simply stroll in our spacious shared spaces. We want to ensure that your stay with us is beyond a typical business trip.
E) Stay productive: Business travelers need productivity. Create an efficient work routine in your apartment by setting up a dedicated workspace. Connect to the high-speed Wi-Fi available throughout our hotel to stay connected and productive during your stay. Our apartments provide a calm and comfortable environment where you can focus on your tasks and achieve your professional goals.
Say goodbye to traditional accommodations and embrace hotel apartments.
Business travelers deserve comfortable and flexible accommodation that caters to their specific needs. With LIV Collection's hotel apartments, tiny hotel rooms are passé. Experience spacious and modern accommodations with all the amenities of a home, providing you with the right environment for work and relaxation.
Let us redefine your expectations and provide you with an unparalleled hotel apartment experience.
At LIV Collection, we're committed to providing business travelers with a seamless and enjoyable stay. This ensures you have everything you need to make your trip successful. Explore our range of hotel apartments, discover the vibrant city of Larnaca, and elevate your travel experience with LIV Collection.
With our spacious accommodations, cost savings, and exceptional amenities, you can truly make the most of your business trip. Book your stay with LIV Collection today and unlock a world of comfort and convenience for your next business travel adventure.
Your journey begins with LIV Collection.