Cyprus has long been a popular destination among travellers from around the world. With its pristine beaches, rich history, and vibrant nightlife, it's no wonder why so many visitors choose to visit Cyprus each year. If you're planning a trip to the island and wondering where to stay in Larnaca, you're in luck. Larnaca, a city with a rich history and plenty of attractions to keep visitors of all ages entertained, is one of the best places to experience Cyprus tourism at its finest. In this post, we'll take a closer look at some of the things to do in Larnaca, as well as where to stay in the city.
History and Culture in Larnaca
Larnaca is one of the oldest cities in Cyprus. It was founded by the Phoenicians in the 10th century BC and has been inhabited ever since. The city has been ruled by many different empires over the centuries, including the Greeks, Romans, Byzantines, Arabs, Venetians, and Ottomans.
If you're interested in history and culture, Larnaca has plenty of attractions to explore. One of the most popular sites in the city is the Hala Sultan Tekke mosque, which is said to be built on the site where Prophet Muhammad's foster mother is buried. The mosque is a beautiful example of Ottoman architecture and is surrounded by serene gardens and a lake.
Another must-visit attraction for history buffs is the Larnaca Fort. This 17th-century structure was built by the Ottomans and has served as a prison, a garrison, and a museum throughout its history. Today, visitors can explore the fort's exhibits and learn about the city's rich past.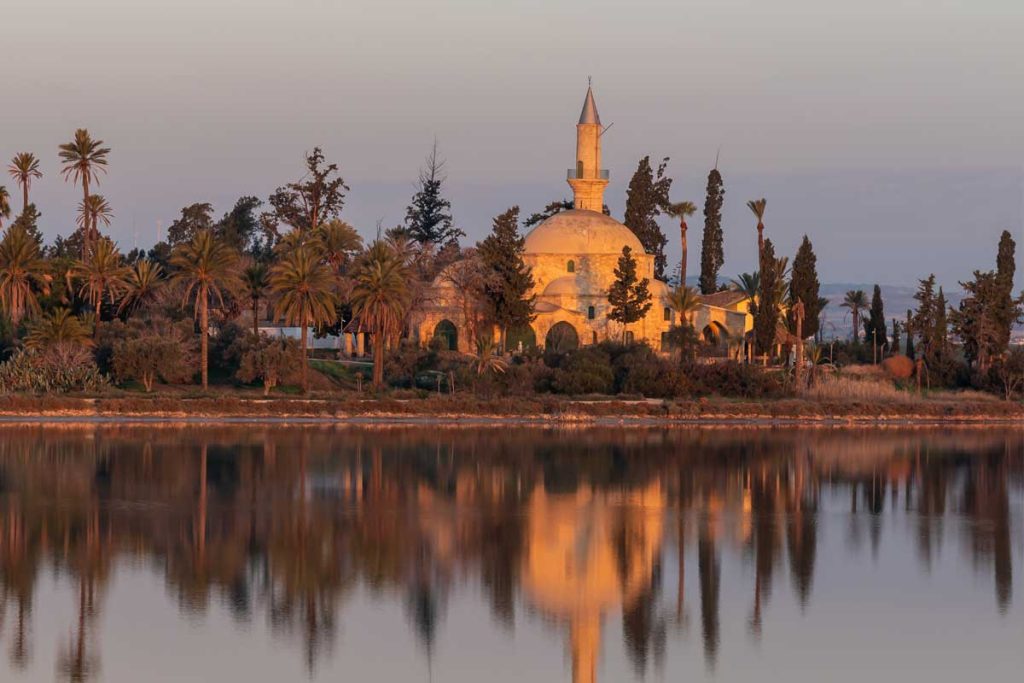 Beach Tourism in Larnaca
Larnaca is also known for its beautiful beaches, which are perfect for sunbathing, swimming, and watersports. One of the most popular beaches in the city is Finikoudes Beach, a long, sandy beach with plenty of amenities, including sunbeds, umbrellas, and water sports rentals. The beach, lined with palm trees, also has a wide variety of restaurants and cafes nearby. Mackenzie Beach is another great option, especially for those who enjoy water activities like windsurfing and kiteboarding.
Tourism for Different Ages in Larnaca
Larnaca has something to offer visitors of all ages. Families with children will love the Larnaca Salt Lake, which is home to flocks of flamingos during the winter months. The nearby Hala Sultan Tekke mosque and gardens are also a great place for kids to explore.
For older visitors, Larnaca has a vibrant nightlife scene. The city's bars and clubs come alive at night, with plenty of options for dancing, live music, and socializing.
Shopping in Larnaca
Finally, if you're looking for some retail therapy, Larnaca has plenty of options. The city's main shopping district is along Zenonos Kitieos street, where you'll find a mix of high-end stores and local shops selling everything from souvenirs to clothing and jewelry.
Where to Stay in Larnaca
When it comes to hotels in Cyprus, Larnaca has plenty of options. For a genuinely local touch, consider staying at The Liv Collection's Urban Larnaca hotel. Located at the heart of the old city, this boutique apartment-hotel, with its 22 rooms, provides comfortable and spacious accommodations, perfect for individuals, couples, and small groups.
If you're in town for business meetings, we've got you covered. Our rooms cater to your professional needs, equipped with a convenient table for two, a large flat-screen TV that doubles as a monitor, and reliable, fast wi-fi.
But it's not all business here. Just a brief three-minute walk away lies the sun-kissed beach. Plus, the hotel's rooftop provides a scenic view of the gorgeous island. Ideal for individuals, couples, and families in search of an authentic urban experience in a captivating setting, Liv's Urban Larnaca hotel serves as a wonderful base for your adventures. Here, the promise of creating lasting memories awaits you.
Conclusion
Cyprus is a wonderful destination for any traveller who wants to enjoy a mix of history, culture, nature, and fun.
Larnaca is a city that truly has something for everyone. Whether you're interested in history and culture, beach tourism, or nightlife, you'll find plenty of attractions to keep you entertained. And with a wide range of hotels in Cyprus to choose from, finding the perfect place to stay is easy. So why not plan a visit to Cyprus and explore all that Larnaca has to offer?
Additional Information
Visas: Citizens of most countries do not need a visa to visit Cyprus for up to 90 days.
Currency: The currency of Cyprus is the euro.
Language: The official languages of Cyprus are Greek and Turkish.
Climate: Cyprus has a Mediterranean climate, with hot, dry summers and mild, wet winters.
Getting Around: Cyprus has a good public transportation system, but it is also easy to get around by car.
Safety: Cyprus is a safe country to visit. However, it is always a good idea to be aware of your surroundings and take precautions against petty theft.